Every December since 2012, we've bought one or two 37-ounce jars of Planters Cocoa Dark Chocolate Almonds to snack on, which cost around $13 at Sam's Club.  They're a highly filling and satisfying snack, but have little if any bad fats, and sugar content is lower than many chocolate candies that we would otherwise have consumed.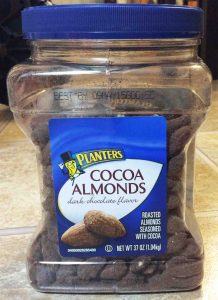 Benefits, Features, Pros, and Advantages
Dark chocolate, cocoa dusting    covers the roasted almonds.  Though referred to as dark chocolate almonds, there is no waxy or fatty chocolate shell that's made of hardened fats and paraffin like you find in chocolate bars.  Just rich tasting cocoa powder coats the almonds.
Seasoned with real cocoa.
Almond skins left in.  The almonds in this snack are not skinless; they have their skins left intact, for better nutrition as well as taste.
Large almonds.  Probably twice the size of those used in the various Blue Diamond products.
Strong cocoa taste,  as though you moistened the almonds, and rolled them in  some Hershey's hot chocolate mix.
Low salt.  At just 35 milligrams of sodium per one ounce serving, Kraft Foods seems to have applied only enough salt to amplify the dark chocolate flavor in the cocoa powder.  These almonds by no means taste salty.  Definitely more sweet and chocolaty and sweet than salty.
No bad fats.  No trans fats, hydrogenated oils, or fat substitutes present here.
Little added fat. This product has very little more fat than what you'd find in unflavored almonds.
Less than 200 calories per serving.  Approximately twenty-four of these coated almonds is considered a serving, which works out to 160 calories per serving.
Significant but not overbearing fiber.  At three grams per serving, you get enough to help keep you regular, but not enough to produce much gas.
Simplified and enlarged nutrition facts label.  Displays just the amount of calories, saturated fat, sodium, and sugars in a one-ounce serving.  However, the full Nutrition Facts label is also included on another side of the jar.
The snack that you needn't feel guilty about eating.  More natural than not, as the bulk of the calories in this snack occur naturally within the almonds themselves.
Manufactured by Kraft Foods.
Drawbacks, Problems, Cons, Disadvantages, Concerns, and Improvements
Cocoa powder sticks to fingers.  Yet this is another flavor that qualifies as, "finger lickin' good."  The mess may at first be a pain, especially if you get the brown powder on your clothes.  But oh, how good it tastes when you lick it off the fingers; like liking cake batter beaters.
Not a low calorie snack.  As with most nuts, the almonds in this product as well as the sweeteners and oils, make it a fairly dense energy source.  So be careful about overindulging.  A single serving in a day produces no ill effects in us.  But much more than that, and any weight loss efforts will probably be forfeit for that day.  But, overeating is not probable, because we fill up after just 15 or 20 cocoa covered almonds.
Get rid of the added sugar.  As more and more badness is discovered about the harmful effects of added sugars, our interest in locating snack items that avoid it, also increases.  We'd like to see Planters adopt stevia, monk fruit, or some other zero-calorie yet natural sweetening, to make this wonderful break food even more healthful.
Non organic.  However, the taste seems unaffected.  It's still quite good.
No GMO-free declaration on jar.  So, may contain genetically modified organisms.
May contain traces of peanuts.  We'd recommend that people with peanut allergies avoid this product.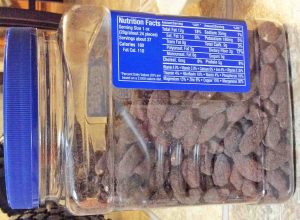 Nutrition Facts
Serving size: 1 Oz (28 grams or about 24 pieces).
Calories: 160.  Fat calories: 110.
Total fat: 12 grams, 18% DV.
Saturated fat: 1 gram, 5% DV.
Trans fat: 0 grams.
Polyunsaturated fat: 3 grams.
Monounsaturated fat: 8 grams.
Cholesterol: 0 milligrams, 0% DV.
Sodium: 35 milligrams, 1% DV.
Potassium: 180 milligrams, 5% DV.
Total carbohydrate: 9 grams, 3% DV.
Dietary fiber: 3 grams, 12% DV.
Sugars: 5 grams.
Protein: 5 grams, 9% DV.
Vitamin A: 0% DV.
Vitamin C: 0% DV.
Calcium: 6% DV.
Iron: 6% DV.
Vitamin E: 35% DV.
Thiamin: 4% DV.
Riboflavin: 10% DV.
Niacin: 4% DV.
Phosphorous: 10% DV.
Magnesium: 15% DV.
Zinc: 6% DV.
Copper: 15% DV.
Manganese: 30% DV.
Percent values based on a 2,000 calorie per day diet.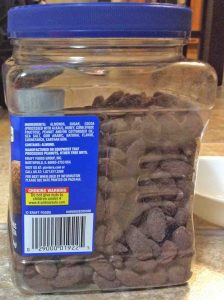 Ingredients
Almonds, sugar, cocoa (processed with alkali), honey, corn syrup, fructose, peanut and / or cottonseed oil, sea salt, gum Arabic, natural flavor, cornstarch, xanthan gum.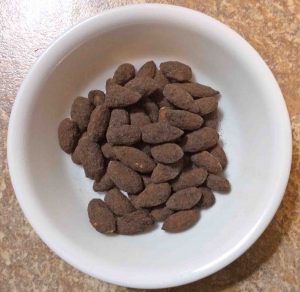 Our Rating
While sugar is listed as the second ingredient, this chocolate almond snack really doesn't taste all that sweet.  More chocolaty than anything.  Plus, there's enough healthy fiber to ease some guilt of eating chocolaty snacks that taste so good.  We like this product, as it has become a sort of holiday tradition at our home.  It's always been available at Sam's Club, and if not there, then at the Walmart just across the parking lot here.  So we'd rate Planters Cocoa Almonds at 96 out of 100.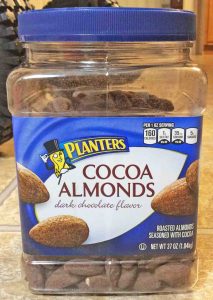 References
Revision History
2015-01-25: Originally published.